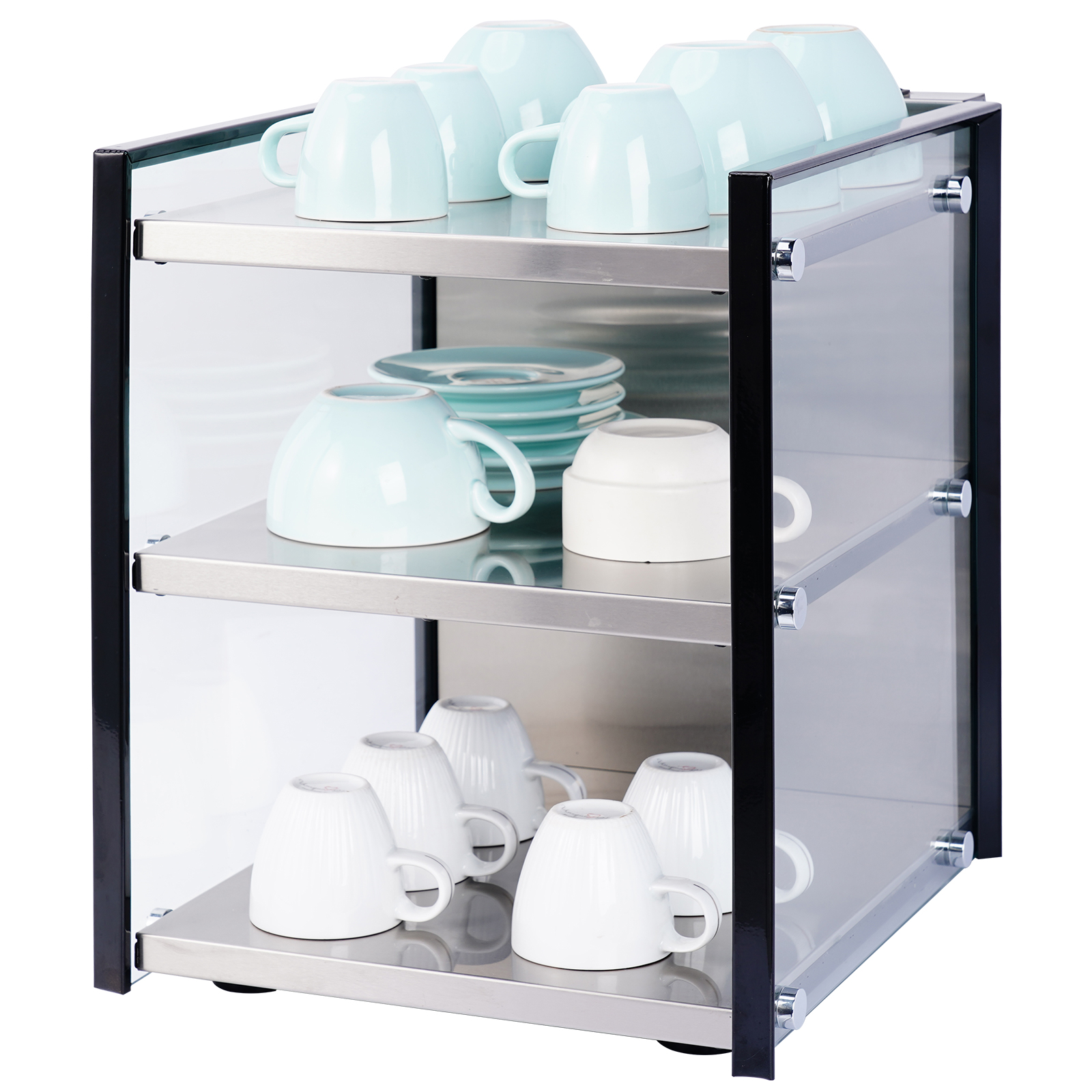 ☕️Maintain the taste of coffee: the best time to taste a cup of coffee is within 10 minutes, and the best temperature is 58℃-60℃. After 5-10 minutes after the power is turned on, the temperature tends to be constant, put the cup into the warm cup holder 15-30 minutes in advance, and warm the cup to the exact temperature of 35℃-40℃ for serving coffee. This will not allow the cup to absorb the temperature of the coffee, especially in winter, thereby prolonging the tasting time of the coffee.

☕️Heat preservation and hygiene: The cup warmer not only warms the cup, but also provides multiple layers of space for cup storage. More importantly, after drying the coffee cup, it avoids the long-term wetness of the cup and affects the hygiene of the cup.

☕️Space-saving: Dimensions are 12.2*14.6*14.6in and weight is 22lb, which saves space in business use scenarios and matches the size of the coffee machine.

☕️Sturdy and environmentally friendly material: The coffee mug holder is made of cold plate, stainless steel, and glass, which is strong and not easy to deform, and is environmentally friendly, so you don't have to worry about odors.

☕️Beautiful appearance: The whole body of the machine is designed with a right-angle frame. There are two kinds of lights on the machine, blue and red. Whichever you like, you can switch it manually.
Estimated delivery time and corresponding shipping costs:
U.S:
- Free Standard Shipping (with tracking): 2~3 working days
Canada:
- Free Standard Shipping (with tracking): 3~5 working days
Japan/Europe:
- Free Shipping Free (with tracking): 7 business days
Other countries:
- Standard shipping (with tracking): 7~15 working days
If you spend more than $300, you will need $10 shipping; if you spend less than $300, you will need $30 shipping.