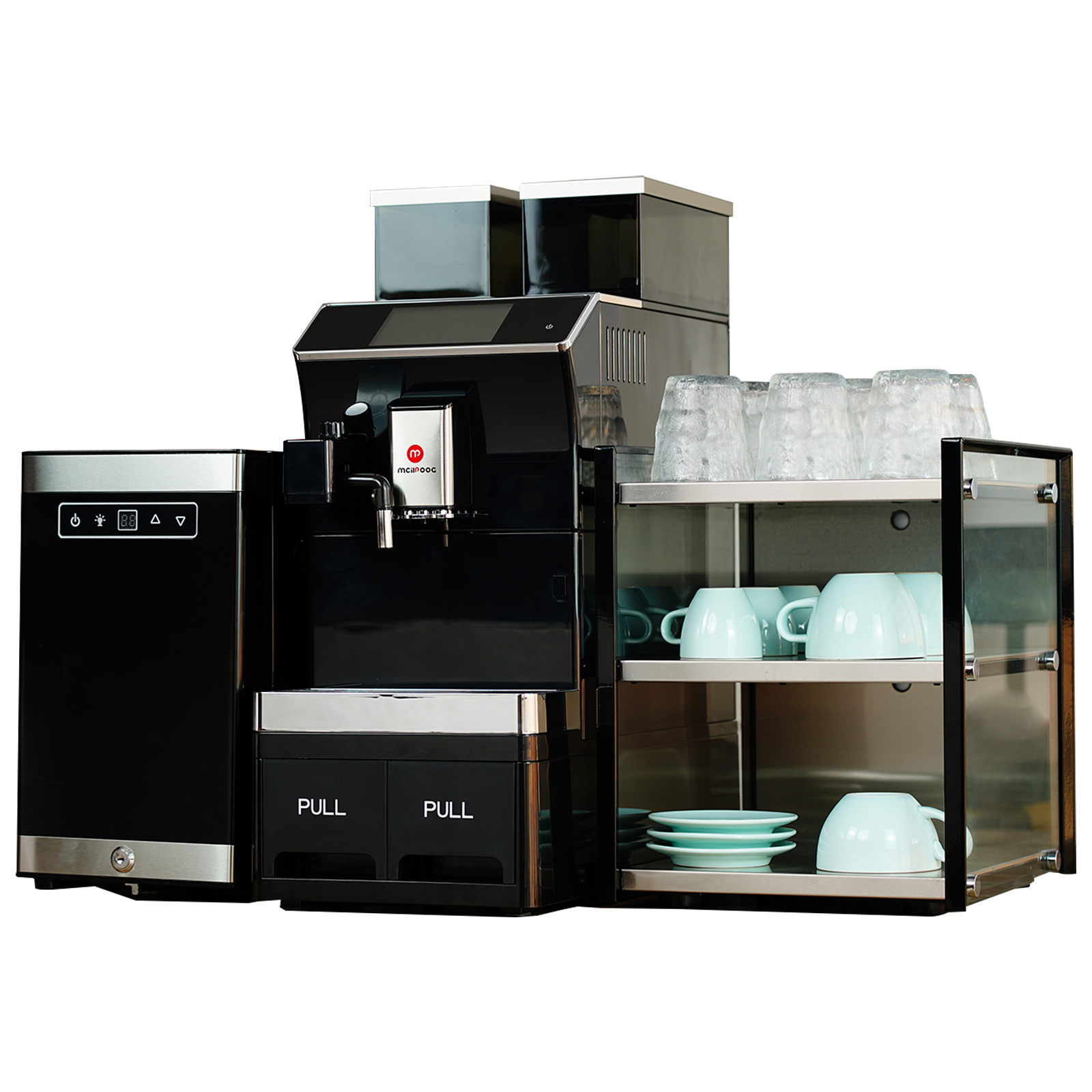 ☕️The advantages of the combined machine: the machine can use its own water tank and support external household water sources. The storage capacity of the bean silo can reach 1000g. The waste water box and the waste residue box can be connected to waste water buckets and trash cans. The refrigerator comes with the machine to store your milk, and the warm cup holder ensures your coffee stays at its best flavor.
☕️Fully automatic coffee machine: You can use the machine service menu and adjust the machine's maintenance settings, brightness settings, standby time, and customize the machine's water hardness, coffee temperature, strength, and amount of coffee. You don't need to make milk froth manually, the machine can help you with it, and the touch screen shows the coffee making progress while the machine makes coffee.
☕️Coffee mug holder: the best temperature for a cup of coffee is 58℃-60℃. After the temperature stabilizes 5-10 minutes after the machine is turned on, put the cup into the warm cup holder 30-60 minutes in advance, and warm the cup to a temperature of 35 ℃ - 40 ℃, so as not to let the cup absorb the temperature of the coffee, the coffee After the cup is dried, the long-term humidity of the cup is avoided to affect the reference hygiene.
☕️Low temperature milk storage refrigerator: The refrigerator uses wind energy for cooling, and the rear of the machine adopts the design of circulating air cooling, which has low energy consumption. The milk used in fancy coffee is fresh raw milk, and the best storage temperature is a low temperature environment of 2℃-8℃. This refrigerator is suitable
☕️Business coffee machine combination applicable scenarios: business reception, hotels, clubs and other business places, cafes, leisure bars and other places, can also be used as employee benefits.
Estimated delivery time and corresponding shipping costs:
U.S:
- Free Standard Shipping (with tracking): 2~3 working days
Canada:
- Free Standard Shipping (with tracking): 3~5 working days
Japan/Europe:
- Free Shipping Free (with tracking): 7 business days
Other countries:
- Standard shipping (with tracking): 7~15 working days
If you spend more than $300, you will need $10 shipping; if you spend less than $300, you will need $30 shipping.