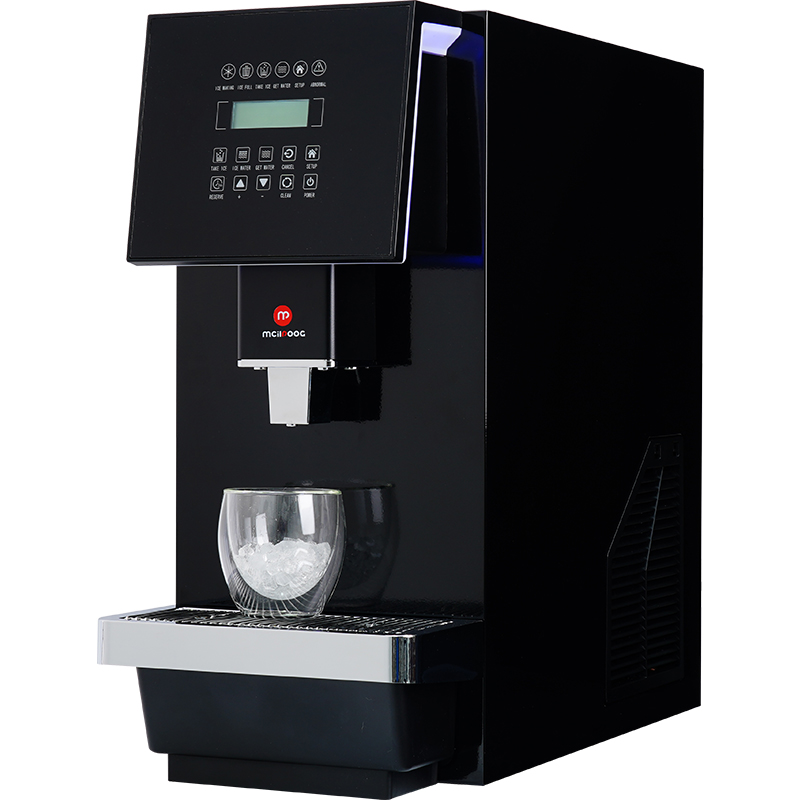 ❄【Ice extraction automation】Mcilpoog ice maker solves the shortcomings of open hand shoveling ice and avoids the breeding of bacteria. Automatically take ice with one button, take it as you use it, clean and hygienic. The clear LCD touch screen can perform a variety of operations. 2.2 pounds of ice cubes can be made within half an hour. When making ice cubes, the noise is lower than 35dB.

❄【Automatic cleaning and blue light function】In order to prevent the residual water from deteriorating and breeding bacteria, the water tank can be automatically cleaned, which can not only ensure the safety of water quality, but also make the ice cubes look crystal clear. The blue light of the machine indicates the standby state, and the red light of the machine indicates the working state.

❄【Reservation function and time custom function】can reserve the next start-up time, saving 30 minutes of waiting time for ice making after restarting the machine. The amount of ice cubes can be adjusted by setting the time.

❄【Smart Alarm Prompt】When the waste water tank is full or withdrawn, the ice maker will automatically alarm.

❄【Applicable occasions】You can use it at home, indoor kitchen, outdoor kitchen, restaurant, bar, hotel, grocery store and other places. The Mcilpoog automatic intelligent ice maker allows you to drink a cup of delicious iced coffee at any time.
Estimated delivery time and corresponding shipping costs:
U.S:
- Free Standard Shipping (with tracking): 2~3 working days
Canada:
- Free Standard Shipping (with tracking): 3~5 working days
Japan/Europe:
- Free Shipping Free (with tracking): 7 business days
Other countries:
- Standard shipping (with tracking): 7~15 working days
If you spend more than $300, you will need $10 shipping; if you spend less than $300, you will need $30 shipping.