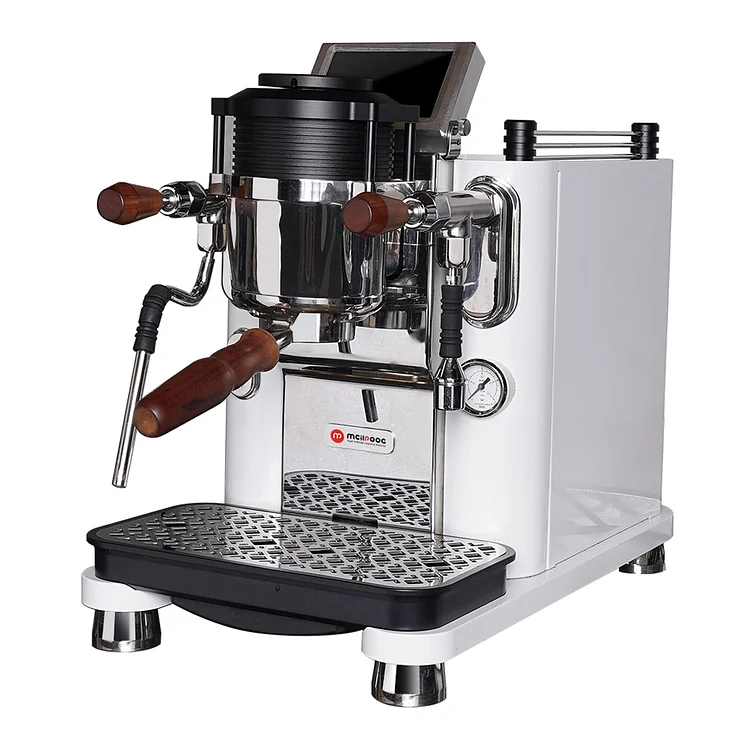 ☕ Free variable pressure/flow variable pressure:Built-in commercial variable pressure gear pump, two variable pressure extraction coffee modes.
☕ Integrated Brew Head:Integrate the coffee machine boiler and the brew head. 0.9L saturated extraction boiler, the extraction water temperature is more stable, and the temperature is not lost when the cup is continuously discharged.
☕ Independently developed dual-stage water adjustment system, automatic switching of large and small water flow:Unique pre-soak method: high pressure, low flow. High Pressure: Ensure that the pressure during pre-soak is sufficient to penetrate to the bottom of the powder layer. Low flow: allow the coffee powder and water to fully contact to improve the extraction degree. After the pre-soak is completed, the large water flow is automatically switched to make the subsequent extraction smoother.
☕ Functional features: 2.6L independent steam boiler: temperature can be set, 4-hole steam head. Froth milk with less effort, powerful steam, low water content and longer lasting milk froth.Lever-type steam valve design, anti-scalding steam pipe. Magnetic water storage tray, which can be connected to a drain pipe. 1.5L built-in water tank, can add water inlet pipeline.
☕ After-sales service:Customer service 24 hours online service, returns and exchanges within 30 days. 12 months after-sales guarantee.
Estimated delivery time and corresponding shipping costs:
U.S:
- Free Standard Shipping (with tracking): 2~3 working days
Canada:
- Free Standard Shipping (with tracking): 3~5 working days
Japan/Europe:
- Free Shipping Free (with tracking): 7 business days
Other countries:
- Standard shipping (with tracking): 7~15 working days
If you spend more than $300, you will need $10 shipping; if you spend less than $300, you will need $30 shipping.