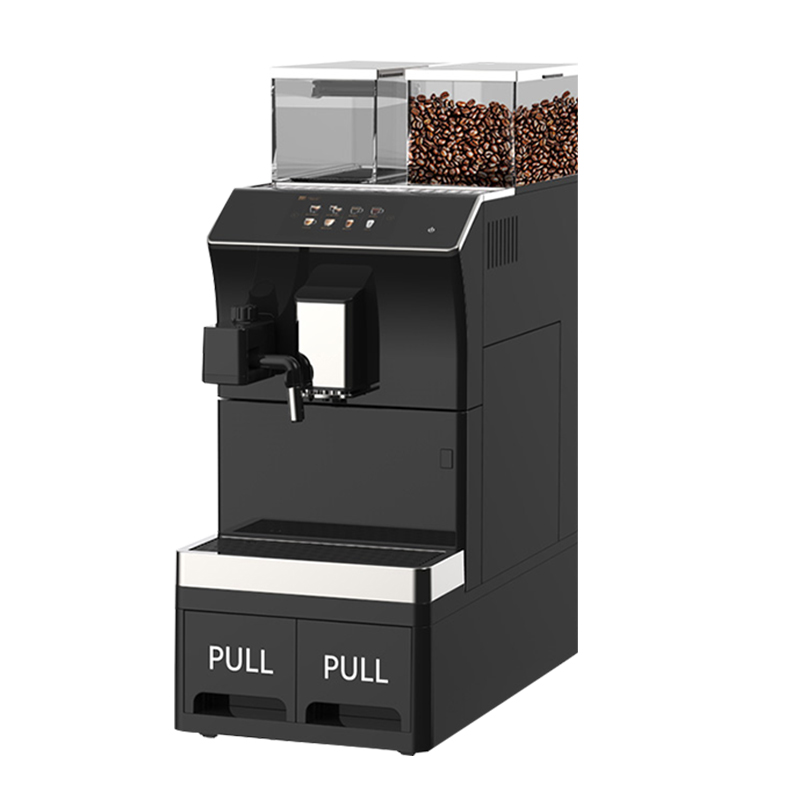 ☕️Smart System: You can use the machine's service menu and adjust the machine's maintenance settings, brightness settings, standby time, and water hardness, coffee temperature, strength, and coffee volume according to your preferences. You don't need to make milk froth manually, the machine can help you with it, and the touch screen shows the coffee making progress while the machine makes coffee.
☕️Advantages of business machines: The machine can use its own water tank and support external household water sources. The bean bin can store up to 2.2lb. Both the waste water box and the waste residue box can be connected to waste water buckets and trash cans.
☕️Automatic milk froth production system: You only need to put the milk suction tube in the milk container, place a cup of about 200ml in the milk steam outlet, use the whole milk stored at 5℃, and use the touch screen to complete the milk. Bubble making.
☕️Intelligent cleaning system inside the machine: You can quickly rinse the milk froth system and brewing core system of the machine through the touch screen. And when you turn off the machine, the machine will automatically clean.
☕️Powerful grinding system: The machine can make 16 kinds of beverages such as espresso, americano, cappuccino, latte and so on for your choice. You can freely adjust the grind level of the coffee beans and customize the amount of coffee and milk froth to achieve the flavor you need.
☕️After-sales service: 24-hour online customer service, return and exchange within 30 days, 12-month after-sales guarantee.
| | |
| --- | --- |
| Model:WS-101+3 | Quota voltage:AV220V/50Hz/1300W |
| Net weight:17kg | Water tank volume:3.5L |
| Gross weight:19kg | Bean tank volume:1kg |
| Product size:475*251*605mm | Package size:580*365*705mm |
Estimated delivery time and corresponding shipping costs:
U.S:
- Free Standard Shipping (with tracking): 2~3 working days
Canada:
- Free Standard Shipping (with tracking): 3~5 working days
Japan/Europe:
- Free Shipping Free (with tracking): 7 business days
Other countries:
- Standard shipping (with tracking): 7~15 working days
If you spend more than $300, you will need $10 shipping; if you spend less than $300, you will need $30 shipping.