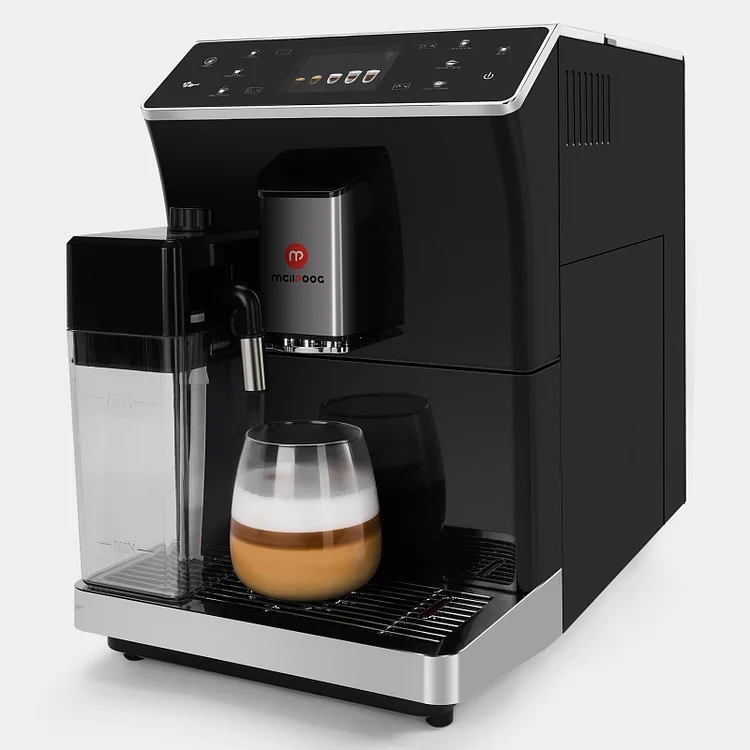 ☕ Touch Screen: The touch screen display simplifies how to make your favorite coffee in 3 easy steps: Grind, Brew and Milk;many kinds of coffee,each coffee all can adjust the water content, milk content, coffee concentration.Easily choose from Lattes, Cappuccinos, Americanos, Espressos, Flat Whites, Macchiatos and many, many more!

☕ Intelligent cleaning and reminder: The Mcilpoog Super Automatic Espresso Machine is specially designed with a wide array of amazing functions and features, such as switch machine cleaning, milk foam system, brewing system, automatic cleaning, lack of beans and water shortage screen will issue a sound reminder.Water Tank Capacity: 1.7L, Coffee Bean Box Capacity: 250G

☕ Automatic Microfoam Milk Texturing:The high-tech software allows you to customize the amount of coffee, temperature, and hot milk foam settings laid out in a user-friendly interface and Touch screen perfect for all customers Auto steam wand allows you to adjust the milk temperature and texture to suit your taste; Delivering barista quality micro foam that enhances the flavor of the coffee and is essential for creating.

☕ Dose Control Grinding: Choose how you want your coffee, strong or light! Put the coffee beans in the container, with a single touch, the integrated precision conical burr grinder with dose control delivers the right amount of coffee on demand, for maximum flavor.

☕ After-sales service: customer service 24 hours online service, returns and exchanges within 30 days. 12 months after-sales guarantee;Our products and services will continue to be improved and upgraded!"Add to Cart" now!