Mcilpoog Unveils a New Line of Fully Automatic Espresso Machines
Aug 11, 2023 by mcilpoog
In response, Mcilpoog has introduced the all-new Hi series of coffee machines. This model, more compact than the WS-203, comes equipped with a remote scheduling feature, allowing even those immersed in the hustle and bustle of life to effortlessly indulge in the pleasures of coffee. What's more noteworthy is that this super automatic espresso machine employs advanced AI technology, capable of precisely controlling both brewing time and water temperature, ensuring that each cup of coffee achieves the optimum taste sensation.
Furthermore, the new coffee maker is equipped with a high-quality metal grinder, capable of grinding the coffee beans to the utmost fineness, unleashing the most intense aroma and flavor. Whether it's the eye-opening black coffee of early morning or the comforting latte of the afternoon, the Hi series coffee machine enables individuals to savor the joy and satisfaction of coffee anytime, anywhere.
Whether it's the robust intensity of an Italian espresso or the gentle embrace of a latte, Mcilpoog Hi series of fully automatic espresso machines, with its four models, can cater to all manner of taste preferences. The simple and user-friendly operation makes each coffee preparation feel like the press of an easy start button, where users can sit back and fully enjoy the pleasure that coffee brings. The scheduling feature adds a touch of thoughtful convenience, allowing one to set the time, then awaken the next morning to the rich fragrance of coffee, marking a perfect starting point for a new day.
The Mcilpoog Hi series of fully automatic espresso machines not only boasts a sleek and contemporary exterior but also utilizes high-quality metal materials, combined with precise craftsmanship, to ensure remarkable durability, allowing people to enjoy an outstanding coffee experience over an extended period. Maintenance is made simple; regular cleaning and care will keep the coffee machine in an ever-new condition.
In summary, the Hi series of super automatic espresso machines is undoubtedly a refined choice in modern living. With its intelligent operation and versatile performance, it constructs an unparalleled coffee experience for users. Whether at a cozy home or bustling office, it can become your intimate companion, allowing you to savor a perfectly crafted cup of coffee anytime, anywhere. Begin your selection now and embark on a personalized journey of coffee delight!
For those enthusiasts devoted to craftsmanship, who take pleasure in hands-on latte art and the process of coffee-making, Mcilpoog's Italian-style semi-automatic espresso machines, TC520 and TC530, are undoubtedly the perfect choice. Not only are these coffee maker elegantly designed, attractive, and durable, but their strong portability ensures that no matter where one finds oneself, the desire for a hand-poured coffee can be satisfied at any moment.
Featured product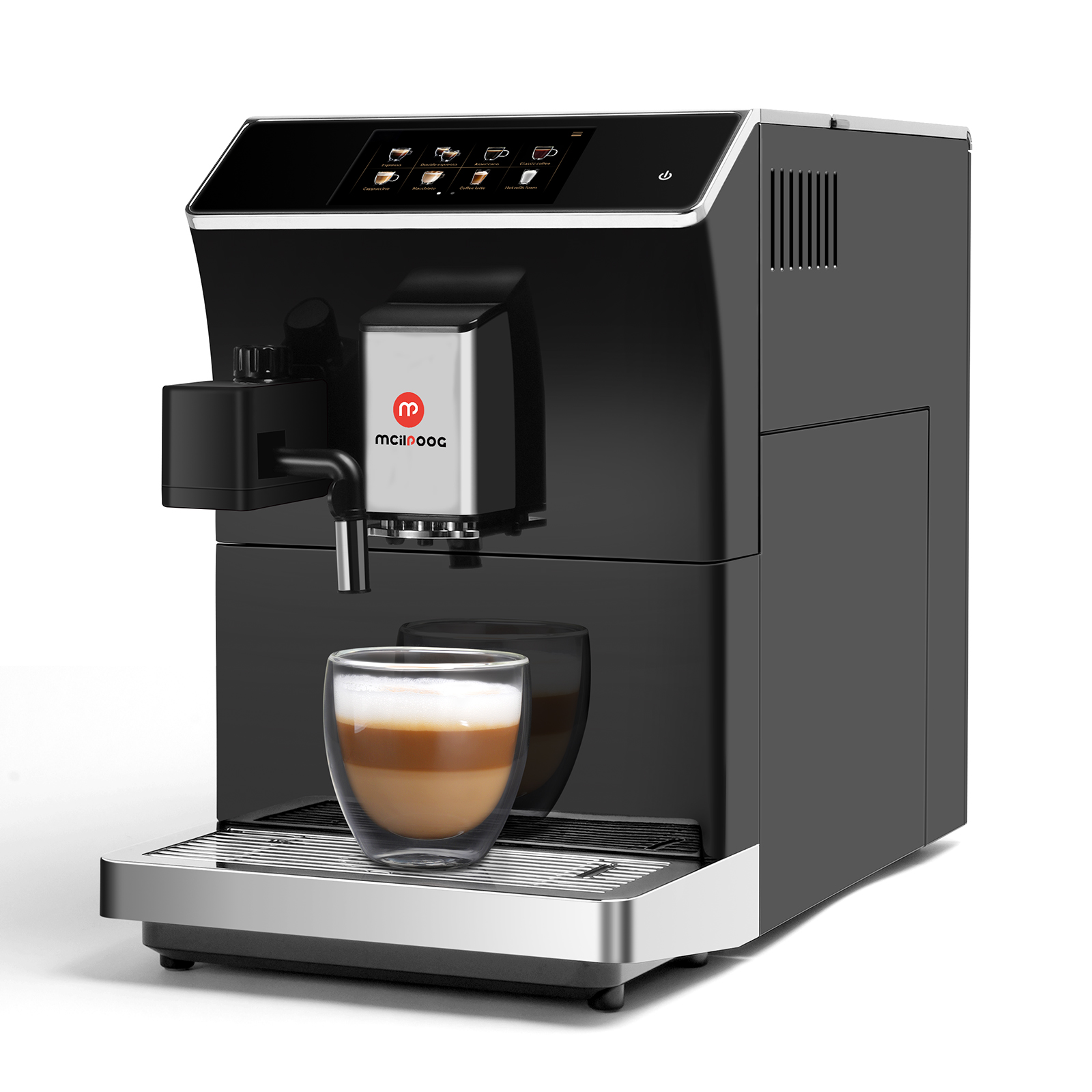 SALE